About Us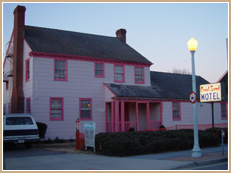 Yes, Doc Taylor's was once a pink motel. We look a bit different now don't we?
Doc Taylor's has a rich history starting with the Virginia Beach Doctor Taylor himself setting up practice and residence in the same building where we now serve breakfast and lunch.
The main treatments and medicine coming from Doc Taylor's these days is comfort food, Bloody Marys, and Mimosas but we'd like to think we've made the late Doctor proud in making our breakfast joint a great spot to meet your friends and family. You're bound to see a face you recognize when you stop in and even if it's your first visit it won't feel like it.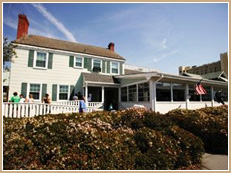 Check out the photos and memorabilia on our walls which tell the story of our building and home. It makes for some entertaining reading while you're having a meal or waiting for a table. If you're lucky enough to run into Bill when you're in make sure you ask about the history of Doc's. He can give you the full story on our former life as a pink hotel.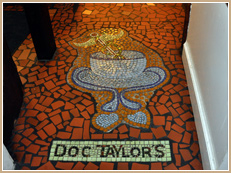 Our current operation, Doc Taylor's, was spawned after its sister restaurant, Tautogs, had established itself as one of the best seafood restaurants on the Virginia Beach oceanfront. We felt that we wanted to extend our on 23rd street presence and we created Doc Taylor's, and the Doc Taylor's Seaside Market Lounge. Both venues sit next door to Tautogs, which means more parking for our guests, a no cover LIVE music outlet for the community, and some amazing breakfast and lunch plates at affordable prices.
Our kitchen crew is one of the best and you can count on these guys to deliver a lightening fast plate of food every day of the week. The vibe is pretty comfortable at Doc's and we don't expect it to change anytime soon. If you do have suggestions feel free to drop us a note in our Comment Box.
Contact Us
Restaurant Hours
Year Round Wednesday - Sunday 7am to 2pm
Closed Monday & Tuesday
We serve breakfast and lunch whenever we're open.
Seaside Market Lounge Hours
Thursday Night Football Tailgate Supper Club
Doors @ 6PM | Tailgate menu @ 7pm till we run out!
Watch the game on the big screen, play some cornhole, listen to some groovy tunes, grab a frosty beverage & enjoy some tasty food prepared by Chef Clint.
Sat & Sun Days (Open to Public)
Email:
Website:
Phone:
Address:

Map:
thedoctor@doctaylors.com
http://doctaylors.com
(757) 425-1960
207 23rd Street
Virginia Beach, VA 23451